Welcome to Richii's MGF / MGTF Page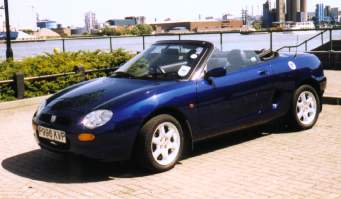 News about the MGF and MGTF

All about my MGF

Why Blue ICE?

Images of my MGF

Buying an MGF

Cleaning an MGF

Accessories for an MGF

MGF Links

News About The MGF and MGTF
Full news releases about my MGF, MG Rover and the new MGTF can all be found on MGFT News Page. For pictures of the MGTF – see the dedicated MGTF Picture Gallery or for the MGF, visit the MGF Picture Gallery.
To download a great MGTF ScrenSaver? for Windows – click here.

All About My MGF
Unfortunately I sold my MGF in May 2000 when I moved to the United States. However, I've left this website around so you can access the pictures and visit the MGF related links…..
On 11 July 1998 I became the proud owner of my first ever MGF – a 1997 "P" Registered 1.8i Although summer 1998 wasn't the hottest one on record, it was good enough for some fantastic drives in the most exiting car I've ever driven! I test drove both a 1.8i and a VVC and to be honest didn't
find that much of a different between either. I chose the car because of her excellent good looks and low mileage. MGF's tend to take a long time before their engines run in properly (10,000 – 15,000 miles is quite common) and mine had clocked up 11,000, was in immaculate condition with
lots of extras (see my Accessories Sectionfor details) and she was in the gorgeous shade of Tahiti Blue! A perfect car to begin my MGF car-driving career!
The technical specifications on my car will appear here soon.

Why Blue ICE?
Why is my MGF called Blue ICE? Well, it's just a name someone recommended me, which I think suits it extremely well. It's the only time that ICE is ever hot! It's cool as ICE but yet hot and sporty at the same time. Blue ICE is cool, sexy and exciting all in one…….
Other names people recommended me were:

Kevin (From the KV in the numberplate!)
Blue Meanie
Blue Train
Blooper
Diddums
Blue Boy
Blue Spice
Spicii
Ummm….Blue ICE sounded the best to me!

Images Of My MGF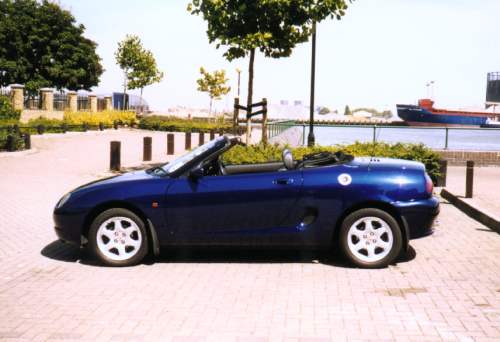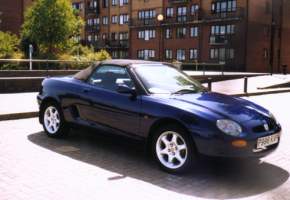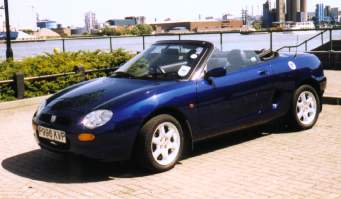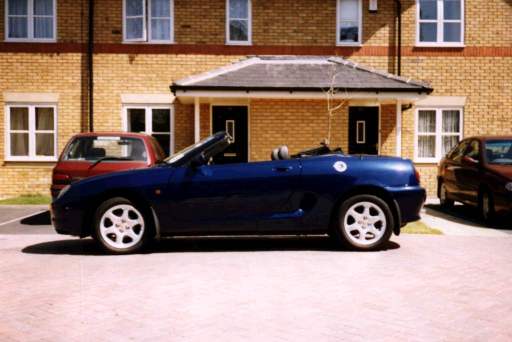 For more pictures of the MGF, see the
MGF Picture Gallery
.
For more pictures of the MGTF (the 2002 replacement for the MGF) – see the dedicated
MGTF Picture Gallery.

Buying an MGF
More details on how to go about buying an MGF and how I bought mine will appear here! In the meantime, why not pick up a brochure from your local MGF dealer or visit some of the MGF Links listed below. Be warned – as of June 1998 there was a four month waiting list for delivery of a brand new MGF!
MG Rover now offer various MGF configurations, such as an entry level 1.6, the 1.8i and 160BHP MGF Trophy. 2002 will see the launch of the MK3 MGF which is looking to be the best MGF ever!
When you take delivery of you car, it may be worth doing your own check over of the car, as some dealers have been known to be a bit sloppy with the PDI checklist. Below a list of December 1996 checks – they're pretty much still relevent to the new MGTF's as well:
1 Check register of service action bulletins
2 Remove transit protection from hardtop (plastic film)
3 Check paint & bodywork for damage
4 Remove plastic protection film from switches and tread plates
5 Remove hood cover (nylon dustcover)
6 Check for evidence of water ingress after car wash
7 Check seat belts
8 Check glove box fit
9 Check seat slides, reclining & latching mechanisms
10 Check operation of windows
11 Set clock
12 Check horn operation
13 Check wiper and washer operation
14 Check alarm, superlocking and immobiliser system
15 Check interior door release & locking operation
16 Check/top up engine oil
17 Check/top up coolant
18 Adjust tyre pressures; including spare
19 Fit hub centre caps
20 Check operation of all lamps and indicators
21 Check headlamp alignment
22 Check operation of exterior door/boot locks
23 Check striker adjustment of doors & boot
24 Lower & raise hood to verify correct operation
25 Check front suspension/trim height & record figure N.B. if below 368mm
adjust to 378mm
26 Check for leaks from engine/Trans & hydraulics
27 Check for leaks from cooling system
28 Check for operation of bonnet lock and secondary catch
29 Check battery state of charge and record voltage
30 Check/top up washer reservoir
31 Check operation of door mirrors
32 Check operation of instrument warning lights
33 Check steering wheel alignment
34 Check radio/cassette/CD operation & activate code
35 Check heater/fresh air/air con operation
36 Check Steering and suspension for noise & irregularities
37 Check clutch and manual gearbox operation
38 Check foot and hand brake operation
39 Check engine performance/throttle/idle speed
40 Check for squeaks rattles/wind noise with hood up
41 If optional hard top supplied then fit and repeat road test for
squeaks/rattles and wind noise
42 Place literature pack in car
43 File top sheet of PDI with customer record file
The following additional activities might also be worthwhile:
Remove alloy wheels, apply copper based grease to inside wheel/hub mating faces and studs to prevent corrosion and fusing onto steel hubs
Check wheel nut torque
Measure tyre tread (start point to monitor wear patterns/life)
Visual check of tyre walls for deformation/damage
Check brake fluid level
Check clutch fluid level
Check gearbox oil level
With stationary/engine off press hard on brake pedal to ensure pedal remains hard and doesn't travel to floor indicating a leak

Cleaning & Caring for Your MGF
Cleaning your MGF and making it immaculate need not be hard work! More details on
what I use to clean my MGF will appear here!

MGF Accessories
My 1.8i has a whole heap of extras. In 1997 when the car was manufactured, Power Steering and ABS were not fitted as standard on the 1.8i However, mine had both fitted and the latter is an excellent safety feature – I doubt I'd buy a future car without it. I've also got the Mud Flaps which help protect the paintwork on the sides of the car from nasty chippings from loose stones!!!
The car also has a high-level rear stop lamp situated nicely in the center of the boot.
In June 1999 I bought the Rover MGF Windstop – a wise buy if you intend to do cruising at motorway speeds – it dramatically stops the back-draft behind the neck. I had the Windstop fitted by my dealer as the fitting bracket on the passenger side is situated above the fuel tank – not something you want to be drilling into!
Although the MGF Car Stereo is adequate, I've found much improvement in fitting a top of the range Pioneer KEH-P9700R head unit. It's pictured below:

The head unit is a Tape/Radio/Amplifier combined unit which is DAB ready and offers Digital Signal Processing! At installation you plug in a microphone in order to let the unit adjust to the acoustics of you vehicle. Then, using one of the 2 remote controls, away you go! I also have the Pioneer 12-Play CD Multichanger fitted in the boot. A couple of additional tweeters in the front makes for a sonic experience second to none!

MGF Links
The links to some great MGF sites can now be found in the MGFT Links database. If you have a page that you'd like to submit to the database,
please click here.

Thanks for visiting my MGF Homepage – it's still under construction and more useful stuff will be added shortly, so please come back and visit again.

richard@richii.com